Bulkmanager V1.2 released
August 22, 2014
Great news, we've just released version 1.2 of Bulkmanager. Bulkmanager allows you to use bulk edit for Umbraco content/media and members. The focus of this release was to reduce the amount of clicks. We've done that by removing the unnecessary bulk execute button on the actions dropdown in Umbraco V4 and V6. And we introduced save for criteria options.
 Save criteria options
 You can query on a lot of items using Bulkmanager. But this can get in the way when you have repeating tasks. You want do them as quickly as possible. Therefore we've introduced a save option. When you specified all the criteria you want to filter on and maybe even the values you want to use in the filter you can hit the save button.

We've also recorded a video for this feature.
Select a different tree for Bulkmanager
A request we've got a few times, "can we use Bulkmanager on a different section  than the developer section?". Now you can. After install you can select any section you want. By default Bulkmanager is still installed on the developer section.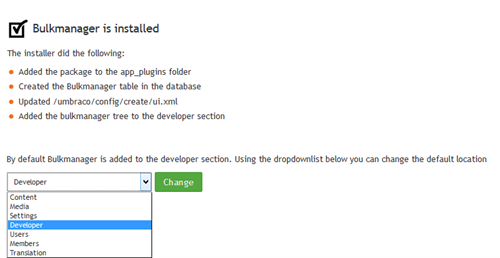 That's it for this release...