Bulkmanager V2 released
February 05, 2019
Today we finally release V2 of Bulkmanager. Query data, select columns, run bulk operations all is easier in V2.
Export data
We could have renamed the tool to Swiss army knife for Umbraco. With V2 it is possible to export all data (only 50 content records without a license) to an Excel or CSV file, Filter data, select columns you want to see, select export and all data will be exported.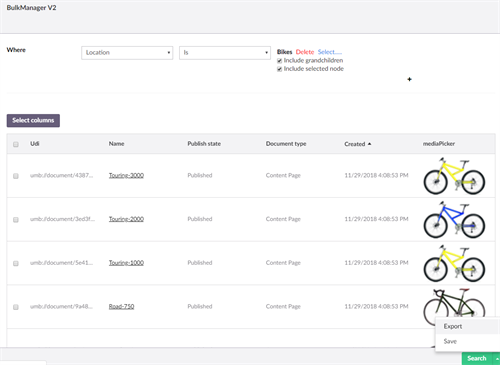 Resources on GitHub

Starting V2 we are moving some parts to a public GitHub repository. We are starting with translations so you can add your own translations, or fix spelling issues on an existing language file.

All can be found on GitHub. If you modify a file or add a translation, please do a pull request.
Breaking changes
No major versions without breaking changes. Below you find the breaking changes:
Bulkmanager requires Umbraco V7.7+
Api of Bulkactions changed
Server or unlimited user?


If you purchased Bulkmanager more than 1 year ago and if you are  a server or unlimited client. You need to purchase a license update if you want to use V2. Domain license are always forever free. To find out if you need to update your license. you can go to your profile page. If your license needs an update you will see the License update section in your overview. You can update immediately from your profile.
Have a play
Download Bulkmanager today and install it into your Umbraco environment. The free version only works for content. If you want a Trial license just send an email to support@soetemansoftware.nl and we  will make sure you get a Trial license to unlock all features for a few weeks.