Bulkmanager for Umbraco V1
July 03, 2014
The last couple of months we have been working on Bulkmanager for Umbraco. Bulkmanager helps you search content, media and members in Umbraco on various criteria and allows you to use bulk operations on selected items. This allows you to fast update content, media and members instead of editing, moving or deleting  them one by one.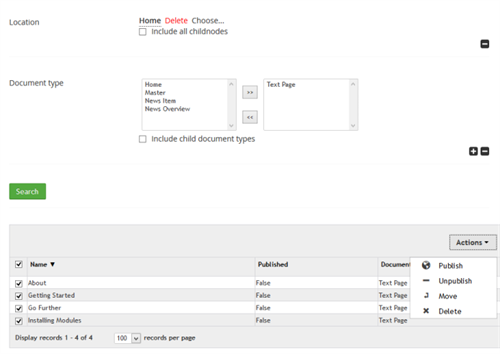 Successor of content maintenance dashboard package
Years ago we've released the content maintenance dashboard package (CMT) but that tool was not designed to be a product, it was first released as a test tool for CMSImport. CMT had other limitations in terms of extending. Bulkmanager is and is the replacement of the CMT. Bulkmanager works on Umbraco V7, but also on V4.7+
Freemium
Bulkmanager is a freemium package what means that you can use the basic functionality for free and when you have a license you can use all the functionality. Check out the feature page to see what is supported in the free package and which features ar license only.
Demo
We have a demo video explaining the tool, we always love to demo our products so if you want a demo via Skype or Google Hangout please contact us.
What will be in VNext?
As with every product we have just started. The next coming months we will be implementing extra bulk actions. So expect a Bulk action "Change document type"  and "Change template" soon. In a future version it will also be possible change property data. Keep an eye on the Bulkmanager product page or sign-up for our newsletter to stay informed.