CMSImport V4 released
August 31, 2020
Today we've released Version 4 of CMSImport which is also known as the Umbraco V8 compatible release.
Supports Multi lingual Import
CMSImport V4 supports the new Umbraco V8 multilingual features. When you select a document type that has Multi lingual support. it will show a Mapping step per language. First it will show the mapping options for the default language and then the mapping options for a page that has Multi lingual properties. In this case Dutch.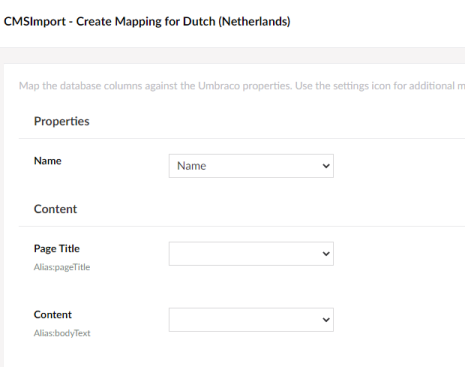 Completely rewritten
CMSImport V4 is completely rewritten for Umbraco V8. We cleaned up a lot of legacy and it no longer uses the older Webforms Bridge. All is based on the new techniques Umbraco V8 provides.
Easier to extend
Even though it is absolutely not necessary to write custom code to import data, it is possible to extend CMSImport. Because CMSImport is rewritten it no longer uses Webforms That means you don't have to write any Webforms logic if you want to create your own Data Provider, or Advanced Settings provider. The UI part of these providers is using Scaffolding to generate the UI for you. In case you want to extend CMSImport you only need to worry about the implementation and no longer about the UI part.
Umbraco Data provider comes late this year
The most difficult import provider we've written in the past was the Umbraco data provider that allows you to import content from a different Umbraco database. To not further delay V4 we decided to release this provider later this year.
Upgrade your Server, or Unlimited license
If you have a Server or Unlimited License for older versions of CMSImport (Bought at least one year ago) you need to upgrade your license. When you visit your profile page you should see the Update button in that case.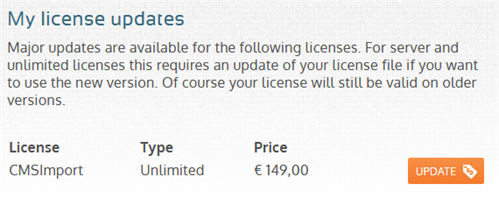 Prices are 99 Euro for Server license upgrade and 149 Euro for an Unlimited license upgrade.
Give CMSImport V4 a try
Without a license it's possible to use CMSImport with a few limitations. In case you want try before you buy a license send an email to support@soetemansoftware.nl and we will send you a trial license.
Happy Importing!