Media protect for Umbraco V8 released
March 20, 2019
Today we've released a new version of Mediaprotect that supports Umbraco V8. Besides just updating the codebase we gave the dialog a V8 look.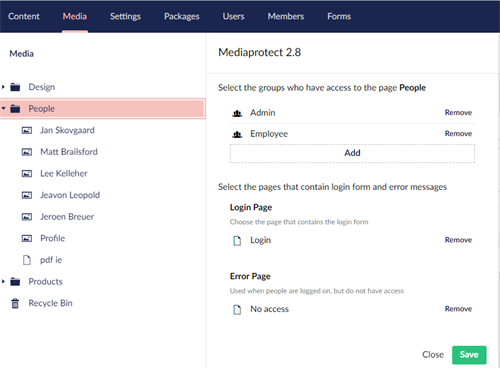 Breaking changes
Umbraco V8 is completely different from older versions of Umbraco so this version comes with some breaking changes:
Using the latest Umbraco dll's.
MediaProtect.DAL project removed.
MediaProtect.Resources project removed.
ImageGen validator removed.
Events Moved to MediaProtect.Extensions dll.
Removed XSLT support.
Support for older Umbraco versions
We really like Umbraco V8 but also love our customers, so of course we still support older versions of Umbraco. On the additional downloads you find the Umbraco V7 package, or download the package from NuGet or our.umbraco.com
Resources on GitHub
We've moved all translations to GitHub so you can add your own translations, or fix spelling issues on an existing language file.

All can be found on GitHub. If you modify a file or add a translation, please do a pull request.
Have a play
Download Mediaprotect for Umbraco 8 today and install it into your Umbraco environment. The free version will work on localhost. If you want a Trial license just send an email to support@soetemansoftware.nl and we  will make sure you get a Trial license to unlock all features for a few weeks.
Other packages?
We've also released Member export and will continue to work as hard as we can to make everything V8 compatible.