SEO Checker v1.1 released
June 11, 2013
After weeks of hard work we are happy to release version version 1.1 of SEO Checker for Umbraco. This release is also known as the UX improvement release. Based on feedback of our customers and when running the tool on our website we found some area's could be improved.
Bulk operations
In v1.0 you could only apply actions on a single item. Deleting multiple items on an overview for example could be very time consuming.

In v1.1 we've solved this by allowing you to select multiple items and then select a bulk action. This allows you to delete, ignore, revalidate or assign a single item much quicker.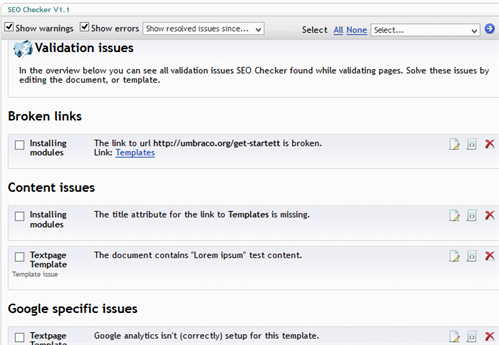 Scheduled tasks
Validating pages was a task you needed to do manually in v1.0. When a site is live you want to check the complete site a few times per week. This is a task you easy forget when you need to do it manually.

In v1.1 it's possible to schedule the validation process on a certain day/time. it's even possible to have more than one validation tasks, this allows you to scan different parts of the site on a daily basis.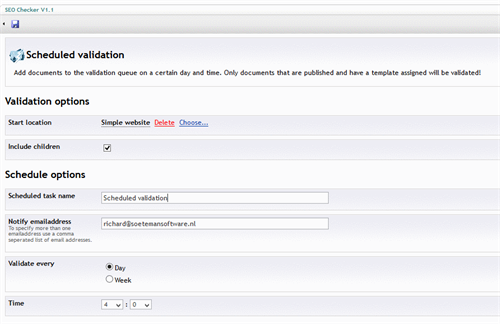 Receive notifications
To see what was reported by SEO Checker you needed to check the various issue overviews in V1.0. In V1.1 it's possible for every user that has access to SEOChecker to enable notifications. When there are issues on the site, the user will receive and email on the specified day/time with the number of open issues on the site.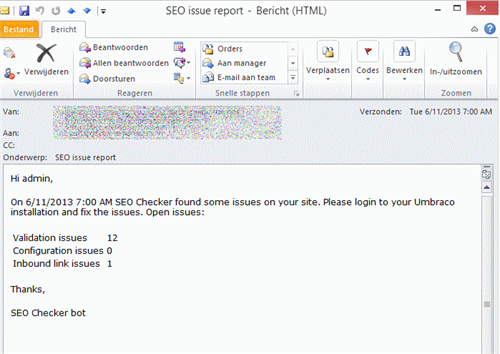 How to update
Updating to SEO Checker v1.1 is simple, because the installer is improved also. Download the package and install it using the Umbraco package installer. The installer will respect your config files and will only update database and files.
 What's next
The next coming months we will continue to improve this tool. Without talking in detail on version numbers or release dates, the following items are on the todo list for the coming months:
Improve configuration options per site, such as robots.txt canonical domain etc.
Allow SEO Checker to work on a 1:1 translation site.
Improve redirect functionality for other tasks than broken links and node name changes.
Improve detection of duplicate content.
Improve detection of template versus content issues.
Want to see something changed, or improved in SEO Checker what's not on the list, send us an email.