Umbraco v7 support for our packages
October 18, 2013
A question we get a lot these days is if our products will work with Umbraco V7?  At the moment we are in the process of adding support for Umbraco V7 to our commercial packages. Member Export is almost done and we love to share a picture how that looks in Umbraco V7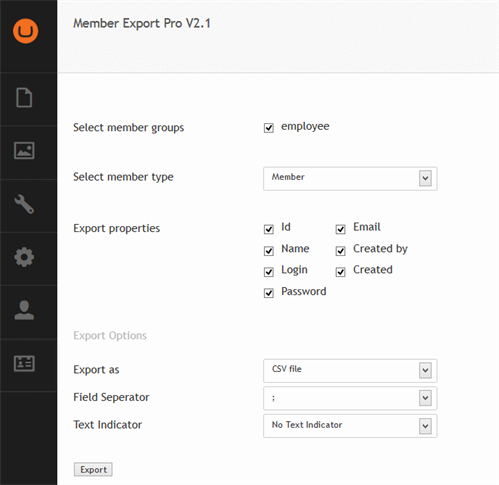 Angular JS Support
The new UI Framework of Umbraco V7 is based on Angular JS. This is a JavaScript framework and gives you a better experience when editing content. The content and media section of Umbraco V7 is converted to this framework but other parts of the system are still based on the old UI code. The old UI code is only styled differently so the whole system looks like the new Umbraco V7 layout. Each release of umbraco V7+ will have smaller parts converted to Angular JS

We are using the same approach. First we will make our packages work on Umbraco V7, then we will be converting smaller parts of the UI to Angular JS.
When will the converted packages be available?
We hope to have Member export and Media protect released when Umbraco V7 is out. CMSImport and SEO Checker will follow shortly after the release of Umbraco V7.
The initial support for V7 will be a minor release update, so will be free for everyone that wants to upgrade.If you have any questions about Umbraco V7 support, contact our support team. They love to answer your questions.