Url tracker redirect import
October 02, 2014
Most of our SEO Checker customers used different SEO packages before using SEO Checker. One of them is the Url tracker package that avoids broken links when changing the page name and allows you to create redirects, similar to the redirect functionality in SEO Checker.
A request we get a lot from our SEO Checker customers is to import the old redirects from Url tracker into SEO Checker to avoid checking multiple overviews and include inbound link issues into the notification emails.
Today we have released version 1.8 of SEOChecker that comes with Url tracker redirect import functionality. It is really easy to use, just open the redirects menu and select import. When the Url tracker table exists you will see the Url tracker data import  option in the dropdown list. When you select that one you will see the following screen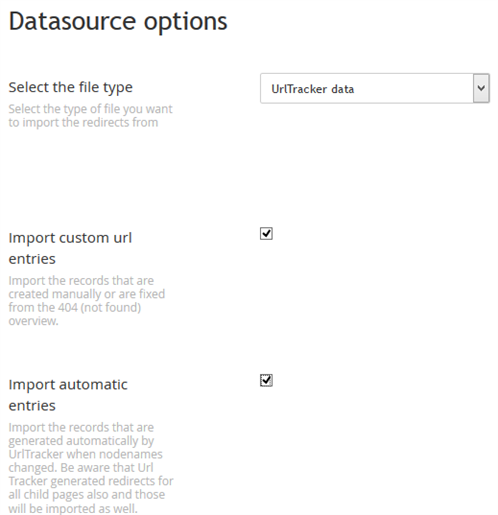 Enable or disable the options and select import. The import process will start and all redirects from the Url tracker are imported in SEO Checker. It's then safe to de-install Url tracker  since SEO Checker will be in control of all redirects now.
Please contact us if you want to know more about this feature or want an SEO Checker demo.